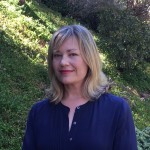 Aretha Amelia Sills is a Los Angeles-based writer and teacher of improvisational theater and creative writing. Learn more about her writing here.
Aretha is the granddaughter of Viola Spolin. She studied Spolin's improvisational theater games for many years with her father, legendary director Paul Sills, creator/director of The Second City and Story Theater. She is the associate director of Sills/Spolin Theater Works and she has conducted workshops at Paul Sills' Wisconsin Theater Game Center, Bard College, Stella Adler Studio of Acting, The Art of Acting Studio, Sarah Lawrence College, Stockholm International School, and Northwestern University. Aretha was nominated for an INNY Award for Best Improvisation Instructor and was the keynote speaker at the California Educational Theatre Association conference. She also teaches Improvisation for Writers and directs The Predicament Players. Aretha offers workshops regularly in Los Angeles, annually in Chicago and New York, and occasionally around the world. Please email Aretha Sills to request to be notified about upcoming workshops, or to inquire about bringing her to work with your school or group.
Information and quotes about her workshops can be found here. Please also visit ViolaSpolin.org to learn more about Viola Spolin's life and work, and PaulSills.com for information about Sills/Spolin Theater Works and Paul Sills' Wisconsin Theater Game Center.
Contact: aretha.sills@gmail.com