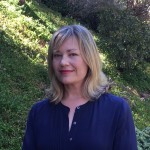 Aretha Amelia Sills is a writer and teacher of improvisational theater and creative writing. Learn more about her writing here.
The granddaughter of Viola Spolin, she studied theater games for many years with her father, director Paul Sills (creator/director of The Second City and Story Theater), and has conducted workshops for Paul Sills' Wisconsin Theater Game Center, Bard College, Stella Adler Studio of Acting, Stockholm International School, Sarah Lawrence College, and Northwestern University. She has worked with Tony- and Emmy-Award winning actors and has trained faculty from Northwestern, DePaul, Columbia College, The Second City, The Alan Alda Center for Communicating Science, LAUSD, CETA, and many other institutions and schools. She is the Associate Director of Sills/Spolin Theater Works and she directs The Predicament Players. She created and directs an improvised show for Enrichment Works, a non-profit that brings theater that inspires learning into Los Angeles public schools. Aretha also gives talks on how improvisational theater in the United States emerged out of Progressive-era social reforms in Chicago via the work of Neva Boyd, Viola Spolin, and Paul Sills. She's given keynote addresses at the California Educational Theatre Conference and the Applied Improvisation Network World Conference.
All workshops are currently held online and information can be found at www.violaspolin.org/workshops. You can sign up to be notified about upcoming workshops here.
Please email Aretha Sills to inquire about coaching, consulting, or working with your school or group.
Contact: aretha.sills@violaspolin.org